As Peter Fuller, one of the most controversial art critics of all time, prepares for fatherhood by going through psychoanalysis to overcome his demons, escaping the shadow of his evangelical father, he develops a friendship with the Revolutionary art critic John Berger, which changes the course of both their lives. Through art he was able to work out his demons, find peace within and lead a new movement in art history, before his life was tragically cut short in a car crash in 1990.
Introduction
It has been a quarter century since my father, the intense, unique and troubled art critic Peter Fuller passed away in a car accident in 1990, below is my tribute to him and my growing research for a film based on his journals. As part of the extensive research I am undertaking for this project, I'm publishing some of my findings here and on my blog. Developing this project has had a deep affect on me, challenged my personal beliefs as well forming a relationship with the father I never had. The TATE archive were incredibly generous recently letting me in to dig through the archive and find out in all the secrets buried in his many journals, letters and correspondences.
Peter died in a car accident 1990, I was in the car, as was my mother Stephanie Burns she survived but my baby brother Gabriel did not. With a broken hip my mother pulled from the broken wreckage and saved my life. I personally happen to agree with Ivana Chubbuck when she said "Discovering and understanding your personal pain is an inherent part of the acting process... Aristotle defined the struggle of the individual to win as the essence of all drama. Overcoming and winning against all the hurdles and conflicts of life is what makes dynamic people". Or the painter Enrique Martinez Celaya "Your strength as an artist does not have to come from your best qualities or gifts. An artist can rise from a deficiency within himself."
"[Fuller] believed that the explanation for all human activity could be found only in the personal history of the human being. This was art-historical Darwinism. It was one of his great strengths." - Waldemar Januszczak
Aside from the avant-gaurde and conceptual art which still leaves many museum goers confounded when they enter a room filled with random, grotesque objects or empty boxes under the guise of a philosophical explanation, the other thing that really got Peter going with Pop art, the leader of the pack being Andy Warhol;
"Warhol offers only a superficial vision of the material world, and the 'glimpses' of heaven and hell are no more revealing than those we can derive from plastic madonnas and two-dollar religious trinkets. The emptiness in his work was never even an analogue for that contemplative emptiness and silence which mystics have long associated with the abnegation of the self and the enrichment of the soul. Rather, it reproduces the pornographic vacuity of a Jimmy Swaggart, or a Las Vegas Crematorium. Cheap nothingness, an oblivion of kitsch." - Peter Fuller on Andy Warhol
There were a number of controversial philosophical stances my father took. In a move that completely rocked the art world turning from Modernism to the British Tradition, my father did a complete 180 on all of his philosophical beliefs, the one thing that he maintained an undying allegiance to was real art. The extent of his tenacity as a socialist critic in the 60s and 70s was completely counterbalanced by the spiritual crusade he traveled in the 80s up until his passing. In the clip to the left the notorious art socialist critic Waldemar Januszczak debates Peter about the exhibition "The Last Romantics" held at the TATE in 1990 and the surrounding ideas.
The first film I wrote, produced and acted in about the art world was in 2008, a short called Possession(s) for ABC Australia. You'll notice in the trailer Ways Of Seeing's unconscious influence. My character undergoes a disillusion with the value (material and emotional) of a painting by Australian artist Peter Booth over the course of the story. He ends up ripping the painting to shreds destroying its object value, therein seeing its true value. I was 20 at the time, today I see it a bit like a sapling of this project, not directly in terms of the story but connected none-the-less .
At this point I'd like to make available the new Kindle edition of Marches Past, his brilliantly quirky memoirs, as an insight into his inner workings. The creative exploration of abstract philosophical thoughts, power struggles with his psychoanalyst, intertwined with art and axolotls. Please contact me if you'd like to receive a review copy.
"A rare view of the critic as painfully exposed and vulnerable." - Matthew Collings, The Late Show
"I have been writing all day long. An orange sun is dropping, like a literary cliche, against a grey Hackney skyline. I begin to see why I started this day, today, a year ago, with images of imprisonment... The horror is that I am locked, like a prisoner, in this cell, this armored circle of time, and no other. I can only ever see the world from a point somewhere behind these eyes; I can only ever know it filtered, mediated and distorted through the gills of this my claustrophobic, indestructible history... I have always sought out the appearance which can be separated and detached from the other through the blade of the eyes, and incorporated painlessly into the self: art criticism. I have an over-retentive memory which stacks everything like a pile of plastic transparencies. Analysis was an attempt to shatter those sheets of glass, to break through the narcissistic veil, to find a way of touching and tasting and feeling real" - Peter Fuller, Marches Past
"This astonishing autobiographical volume is indispensable reading to anyone interested in the work of Peter Fuller" - The Art Newspaper
"An exceptional autobiographical experiment" - Sunday Times
To understand the story of Peter Fuller, it is vital to take into account the community in which he was writing; his friendships, the perceptions of the people around him, who cared about him, fought him, fought with him and loved him in spite and because of all his unusual failings. So I'm putting together a timeline below of my research, which will serve as a backdrop. As I delved into this work I realised that it should be shared for free for everyone. The following quotes and stories are taken from obituaries, Peter's writings, archival material and occasionally recollections that have been imparted to me recently, this is not a polemical piece and takes into account all points of view. I use their words here with respect and compassion.
A huge debt of gratitude must be paid to everyone who was involved in the Peter Fuller Memorial Foundation for all their hard work over the years (please see further writing on this subject at the bottom). This is a continually evolving piece with many question marks and people/stories I have left out, particularly more of the artists he championed. I am contributing to the page regularly, so if it instigates memories for you that you would like to share please use the comment section at the bottom or email me at lrfuller(at)laurencefuller(dot)com
AT a GLANCE
There have been many brilliant artists over the years who have beautifully or hilariously captured the eccentric figure of my father, I'd like to share some of them here, if you have any more you'd like to share please do not hesitate to contact me.
"What excited my passion, or on occasions my hate, was the success, or failure, of a painting as art. To use an analogy from another sphere of life, if I love someone, I certainly want to know everything I can about them; but such knowledge can never 'explain' my love." - Peter Fuller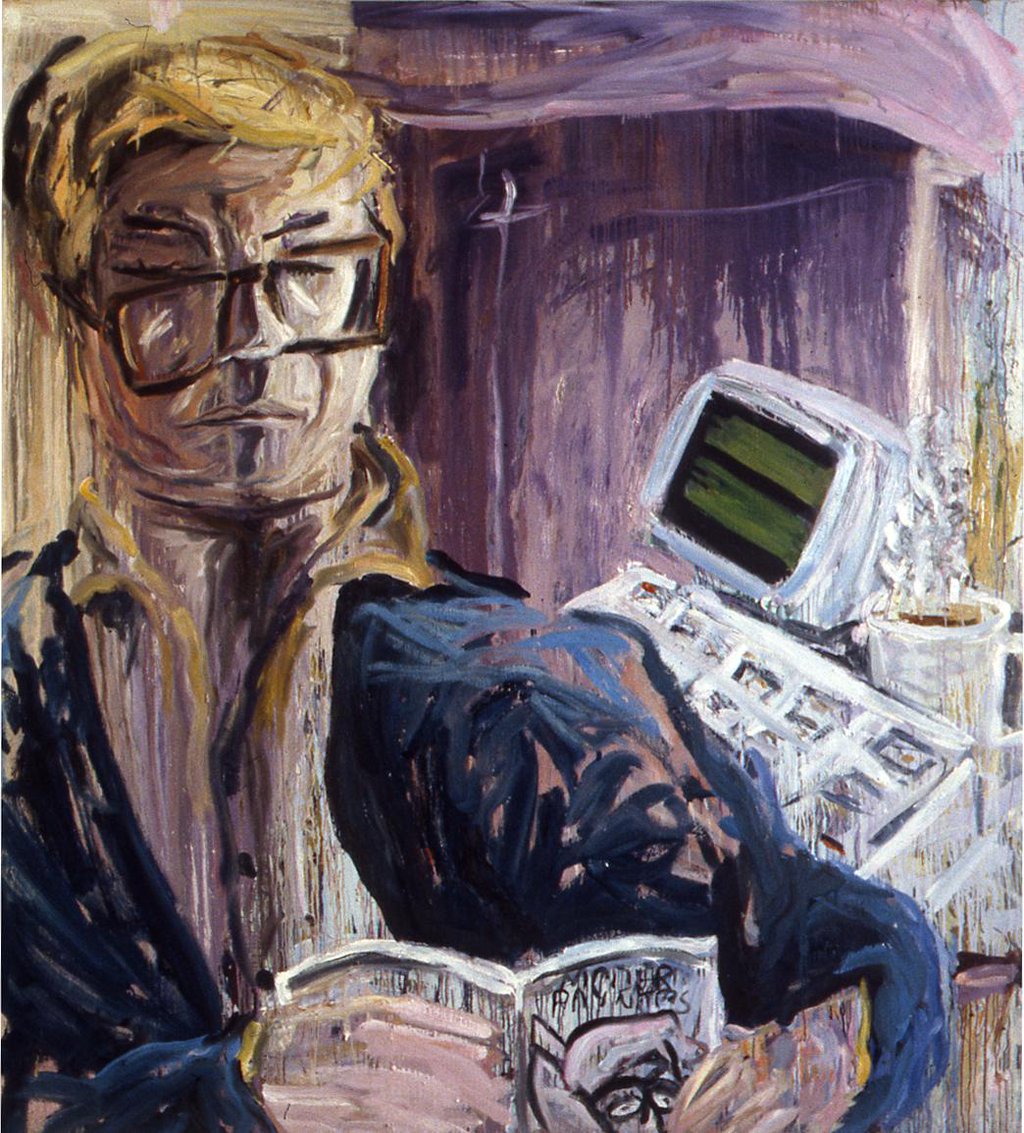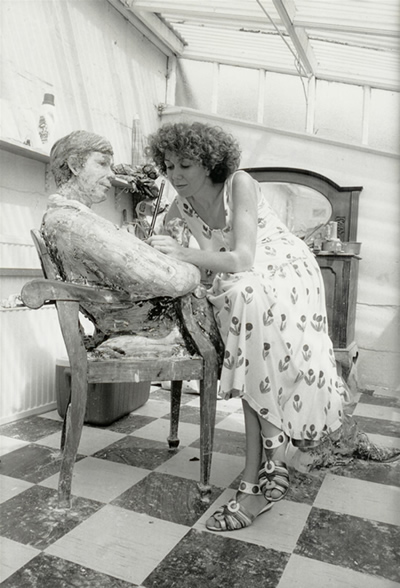 "During the decade 1965 to 1975 some habitués of the London art world used to spend at least half-an-hour a day discussing the ideas and opinions of the American art critic Clement Greenberg. Recently, a visiting American told me that he and his acquaintances in the New York artworld spend at least half-an-hour a day talking about the theories of the British art critic Peter Fuller. Times do change." John A. Walker, Aspects [mid-1980s]
"Peter Fuller was the most important art critic working in Britain in his time - or at least that is what I am quoted as saying on the back of several of his books. He kept putting it in the blurbs even when he knew that I had long since changed my mind about this youthful claim. Indeed, he kept putting it in precisely because he knew I had changed my mind. Oh my, how Peter liked to annoy people. He was that rarest of creatures - an art historian with a sense of fun" - Waldemar Januszczak
"Peter Fuller stood above all for quality... He led a one-man attack on the international style and recently one felt he was winning" - Karen Wright
"He was one of those special people who would try to throw you out of your own house after you had eaten dinner together." - Bob Chenciner
"Even if you disagree with every single statement and judgement of his, his undoubted value is that it's worth reading him, for the seriousness of his level of engagement" - Michael Shepherd, Arts Review
"Peter Fuller was an irascible and uncompromising writer, who, while never forgetting to court a public, journeyed from Marxist to conservative, from materialist to quasi-religious views, barely touching the middle ground... Fuller's books and Modern Painters, the magazine which he founded, reached a wide public well beyond the normally closed circle of the art world, and so they are interesting not only their content but as cultural phenomena." - Julian Stallabrass, The Success and Failure of Peter Fuller
"Art critics are generally little known outside their profession, but Peter Fuller's death in a car accident on 28 April 1990 triggered an avalanche of public tributes from friends, colleagues and even opponents. This response showed how far Fuller had succeeded in changing the direction of contemporary art debates, and in bringing those debates before the general public. The Tate Gallery has acknowledged Fuller's importance by taking on a huge archive of his papers, putting them alongside those of Roger Fry and Sir Kenneth Clark. With Fuller's death, British art lost its most energetic and provocative commentator, its greatest catalyst for change and renewal. It was widely mooted, in the obituaries, that Fuller was irreplaceable. So it has proved. In his absence, it is only too plain that the quality of art commentary in this country has settled back into the torpid and self-satisfied slumber he worked so hard to disturb." - John McDonald, Peter Fuller's Modern Painters
Birth & THE FATHER
"In the evangelical milieu of my childhood, the relationship between theology and science still seemed contentious" - Peter Fuller, Theoria
Although a key figure in the story of British art, Peter was born in Damascus in 1947, his parents Marjory and Harold were stationed there as his father worked for the Red Cross. His sister Ruth was born in Nazareth in 1945, and his brother was born on their return to London in 1950. The majority of Peter's childhood was spent in Eastleigh, a small town on the Southern most tip of England. The family lived in a Victorian house that was built on what was once an orchard.
As the son of a devout Evangelical baptist father, he attended the Union Baptist Church every Sunday. Our family comes from a long line of Evangelical Baptists notably dating back to Andrew Fuller who was one of the founding members of the Baptist Missionary Society. The Andrew Fuller Centre has since used passages of Peter's book "Images Of God" in their studies at The Southern Baptist Theological Seminary in Louisville Kentucky. Which is surprising to me as the book is atheist literature, proposing a secular spiritualism in art divorced from God. Never-the-less incredibly baptist. So baptist in fact Harold Fuller led a provincial revolt amongst the congregation of the Union Baptists Church, walking out mid-service accompanied by a number of the flock, over a theological dispute with the minister.
"His tortured nature is hard to pin down. I only know the things he told me: he had an embarrassing father, for instance." - Matthew Collings
Peter was baptized upon confession of faith by complete immersion, in 1961, just before he went away to boarding school at Epsom College.
"I had spent most of my first year in Peterhouse, in rooms facing the Combination Room and the great thirteenth century Hall, built out of Hugh of Balsham's bequest, the oldest surviving college building in Cambridge, refurbished in the nineteenth century with glass and 'Daisy' tiles provided by Morris, Marshall, Faulkner and co. Subsequently, necessity dictated I should be transported out of Great Court, across Gisbourne Court, the castellated, mock-Gothic, nineteenth century extension, and into Fen Court, an aesthetically derelict piece of 1930s functionalism, only a little less ugly than the rectilinear phallus of the William Stone Building, which rose up like the member of some great mechanical rapist." - Peter Fuller, Theoria
Colette
Peter met his first wife Colette while a student at Cambridge;
"When a student in Cambridge Peter could be a bit of a dandy - even if a dishevelled one . He wore slightly old-fashioned clothes and a hat. I am not sure but I feel he had a walking stick at some point, one of those Victorian gentleman's accessory - purely for effect. He used to be invited to parties with his roulette wheel so people could gamble … That was his "decadent" phase ! Him and some of his friends were reading Huysmans. The book was called 'A Rebours'.
Peter's work was his big project, a search for the meaning of life, for an answer to the "big why" … He was always reading serious booksand writing. Even in the early days when what he wrote didn't have much chance of being published he wrote and wrote … We once went on holiday on a campsite in the south of France wheremy parents and uncle were staying. It was very hot. Peter set up his typewriter under the tent and proceeded to write a few hours everyday. My uncle was amazed, he interrupted the campers game of boules to tell the players to come and have a look at his nephew … He lifted the tent door and there was Peter typing away!" - Colette Fuller
THE rebel
The 60s in london: A TIME OF REVOLUTION
As a young man Peter was involved in the radical 60s Socialist movement in art, after some time he found it difficult to justify the sort of art that he liked without some sense of spirituality (however secular). When in 1977 Herbert Marcuse's essay "The Aesthetic Dimension" was posthumously published, Peter adopted the phrase as his own and become one of the only aesthetic philosophers on the Left. As the years went on he saw that this 'aesthetic dimension' was the one area where Left and Right could unite. He was one of this of that generation of intellectuals to see the flaws in Marxism and wrote publicly about them finding a new view of British art through it. This caused a huge amount of controversy amongst his colleagues.
"I can still remember with what excitement I read Herbert Marcuse's posthumously published essay The Aesthetic Dimension, in which he assailed 'orthodox Marxist aesthetics'. 'By virtue of its trans-historical, universal truths', he wrote, 'art appeals to a consciousness which is not only that of a particular class, but that of human beings as "species beings" developing all their life-enhancing faculties'. Marcuse wrote that 'art envisions a concrete, universal humanity, which no particular class can incorporate , not even the proletariat, Marx's "universal class". Such ideas struck a receptive chord in me. My own book Art & Psychoanalysis, plunged into a terrain which was simply out of bounds for 'orthodox Marxist aesthetics'. I explored psychoanalytic ideas, especially those of the British School of 'object relations' analysts, in an attempt to say something about the pleasure, wonder and mystery which I derived from the experience of art: in particular, I was interested in the possibilities of a psychoanalytic understanding of the form itself. In The Naked Artist, I tried to take these ideas still further and draw upon natural history and biology too." - Peter Fuller, The Journey
"After Cambridge Peter was as broke as the rest of us, and moved in to share our lavish free apartment at 10 Gloucester Gate Regents Park, underneath Adrian Berg's studio where David Hockney with Peter Schlesinger, and Patrick Procktor were often passing up and down the stairs. In contrast, the luscious Jasmine would regularly visit from Paris to go out with all of The Marmalade until her gonorrhoea became insupportable." - Bob Chenciner
Like many people coming of age in the sixties in England, Peter was a part of the subversive movements in culture in the West. As the new wave was breaking new ground in New York, the 60s art world in London was booming, Peter and his mentor at the time John Berger were the Socialist art critics of their day.
"In the early 1970s, I certainly came close to believing that the editorial board of The New Left Review had access to "The Truth", to which I could be a party if only I understood their texts correctly." - Peter Fuller, Marches Past
"It was also the time of revolution. After learning the trade with Larry Lamb's capitalist City Press Peter started Seven Days, the hard left tabloid broadsheet with writers like Anthony Barnett, Patrick Cockburn and his son Alexander, Tariq Ali, Fred Halliday and John Berger." - Bob Chenciner
"A fuller, says Webster's dictionary, is one who scours, cleanses and thickens cloth in a mill; it was attitudes to art that Peter scoured and cleansed, deepening and weighting our response to its potential for spiritual power. He was the Ruskin of our time. He was unique and fascinating combination of enfant terrible and Grand Old Man - both at once. He was child in the directness of his vision. When the Emperor of Art went naked, other critics might be deceived, but never Peter: he saw and commented with unnerving pungency.
But his commentary had a maturity of balance and expression, was weighty with deep reading lightly borne. He could infuriate those who thought differently, but for Peter this fury was intended as cathartic, and motivated solely by a desire for the truth. He believed to his depths that art mattered, that it held within it a means of enlargement of heart for us all; his sheer love of what he spoke and wrote about gave his views their force. Even more was his understanding of art as a search for the spiritual, as redemptive. His love was a moral passion. It was God he sought so single-mindedly, a God in whom he longed to believe but could not. The last time we were together, I told him I thought he was very close to God, but did not yet know His name. He gave me that singularly sweet smile of his, and replied, 'So you say, Wendy, so you say'.
Peter, rightly, could only accept truth on his own say so - and now he does. I have no doubt at all that Peter now sees with overwhelming joy the truth of that Beauty he searched after with such persistence and dedication. He saw God anonymously as it were in the beauty of art, but not 'face to face'." - Sister Wendy
"Both read the Bible day and night,/But thou read'st black where I read white', wrote Blake. Peter did battle over that precious idea on the much bloodied field of art opinion. He was the best sheepdog I can remember...Some may think he had a cavalier attitude to ideologies, first of the left and then of the right.... My own experience of him is that he was a Good Listener and that he would always grow." - RB Kitaj
AUSTRALIA
"In February 1984 I was invited by an artist to go to some talks headed and organised by David Bromfield. There was this voracious, what I thought young, British art critic. I continued going to the seminars which finished at the beginning of March, and then this young art critic was giving his own talks for another two weeks. I became more and more interested and noticed that he was picking me out in the audience. The day of his Ruskin lecture, I decided to stay at the very side of the auditorium to see whether he really was noticing me. He walked in in his usual shy way, put his lecture down on the stand, looked up, flicked back his fringe and glanced over the whole audience with a serious look on his face, until he suddenly caught my eye. He smiled and looked down at his lecture.
When walking out of the lecture, I could hear somebody behind me saying, 'Go on, go on, go on.' I turned around and Peter and David Bromfield were walking side by side with David nudging Peter. I kept walking out. He came up to me outside and asked me what I thought of the lecture. I said that some students were saying that they had already read that particular lecture. He said, ahl but it was in a different format. He asked me out to dinner that night." - Stephanie Burns
TATE ARCHIVE
I'm learning so much everyday about my father, I almost feel like he was just a box in my closet up until now, as his archive is now available to everyone at the TATE, we might consider that he is a box in the art world's closet full of pandora like secrets and treasures containing answers to the enigmatic mystery of not just the man, but the art world, counter culture and ourselves.